Do you consider your home safe? What about when you have to open your gate while it's raining heavily? Can you go out and come back easily?
Fret not, we have all the right answers!
Need An Efficient Autogate System But Don't Want To Get Ripped Off?
Check Out The Best Auto Gate Brand Malaysia!
Autogate Systems are essential, providing you with an easy solution to open and close the gate for any property. Discarding the tiring process of having to open your gate manually, the Automatic Gate system is very efficient. It offers an easy, reliable, safe, and secure way to operate your gate.
It's Easy, Efficient and Provide You with Extra Level of Security – All at Just a Click of a Remote Control Button!
Getting out of your car to open the garage gate and then closing the heavy gate back again can be troublesome. And if you are in a hurry, then this process becomes even more tedious. So, if you don't want to waste your precious time and effort, then Autogate is the solution. Surf through our venture based on autogate Malaysia.
Autogates are especially useful for people who do not have all the luxury of time and don't really want to bother having to manage the opening and closing of their gates every single time they arrive home. Autogate System can be a great option for people with disabilities, the elderly, or physically impaired.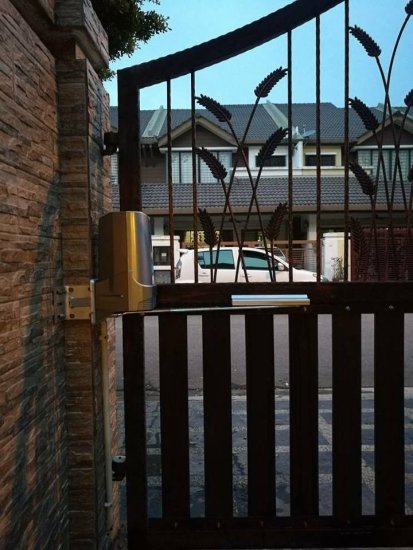 Benefits of Using Autogate:
Does not get bothered by the weather

Makes you experience luxury
Get on board with us to find the perfect Autogate for you
There are different types of Autogate systems available in the market. And before you get on the boat of going to buy one, learn about the types of gate openers. Depending on the opening operation, they can either be Sliding Gates, Foldingor Swing Gates. Next, they come in different materials: Metal, Stainless Steel, and even Aluminum.
Autogate for Swing/Folding Gate Openers:
As the name suggests, Swing gates aredesigned to swing in and out. They are generally quiet in their working and have fewer problems, unlike folding gates that come with various moving parts.
Do you have proper space for swing gates? What if your swing gate swings too far? Do you have other cars that you usually park outside the swing gate? Well, this is where the swing gate can create an issue. If the gate opening is big enough, then the gate will swing out too far posing a threat of damage to the incoming cars.
Leave all your Autogate worries aside!
Folding Gates is yet another type. They are the type of gates that fold back to open. These are also called as bi-fold gates, and take up considerably less space. But even with that, you can face some issues with it. The wheels on the bottom of the gate might get off track making it difficult for you to close the gate. But keep your worries aside and give us a quick call and we'll be there in no time to assist you.
Autogate for Sliding Gate Openers:
The sliding gate runs parallel to the fence line, thus taking less room, and in turn saving space. The gates are often used in semi-detached, Bungalow Houses and Industrial building. When considering buying a sliding autogatesystem, do consider your traffic volume.
Usually, local or Italian autogate systems have a duty cycle that obstructs them from heavy continuous use. The duty cycle of a motor is the number of times the motor can be operated every hour. If the duty cycle is rated for 50%, then it can continuously work for 30 seconds and after that, it requires to be shut down to cool. The cooling requires 30 seconds after every minute of operation so that it can cool down. If it doesn't cool down, there is likely that the autogate motor will stop functioning due to the motor being overheated. It is meant for light usage in houses or business premises.
Our FBM is made in Malaysia and is a heavy duty product that can support gates up to 2000kgs.
Intensive Autogate System
If your autogate requires heavy usage on a daily basis, then you can buy our Intensiveautogate system that is designed for intensive and continuous usage. It will not cause any problem and will not require cooling every now and then.
OurBeni YK series is built specially for heavy duty intensive work. It will be able to withstand a high volume of visitors and employee traffic.
Get sliding autogate Malaysia by FBM. Our venture successfully provides gates for both light and heavy use. You can get your hands on customized designs that can support intensive or continuous usage. This can be prominent for gate systems which take a large number of visitor or employees.
Sliding Autogates are beneficial for driveways as for people who want to park their cars right inside the gate. However, a swinging gate would require for you to park the car far away while you open the gate. It is primarily used for semi-detached, bungalow house, or industrial buildings.
Put your valuable Trust in us for your Autogate system.
Why should you prefer Autogate systems from KedaiAutogate Team (KA)?
Our venture, KedaiAutogate team (KA) stands as a prominent expert in the industry. We stand strong with over 23 years of experience in autogate systems. Proving to be a valuable and reliable autogate system provider, we show our worth by many insightful buyers.
Get the best auto gate price with our company. With our top-tier services, we are well-equipped to provide you with spare parts (we will keep the spare parts for at least 15 years) for the many models we offer. Auto gate motor service is also a part of our service management. Surf through the range of services we offer at affordable prices with autogate Malaysia price.
Spare parts might be hard to get your hands on given the current scenario of service. Your autogate system is running out of time to function? We ensure that you get the autogate spare parts at the earliest as they are available till 15 years of the product release. We readily provide autogate repair service at your convenience.
Tell us what you want, be it spare parts or service, we'll be there!
Is Your Existing Autogate Working? Getting The Best Autogate System And Service Is Not Easy.
Many installers do not prioritize the interest of customers. And so, you might face various issues on the way.
Use of cheap autogate systems: Installers offer you cheap and low-quality products with second hands to reduce their cost. They are definitely not reliable for most installers based in Malaysia.
Lose pricing tricks: Companies might take advantage of you by including extra costs in the fine print, which manages to slip under you and you end up paying a lot more than you were supposed to!
Bad service: After you get the system installed, there is no after-service provided to ensure that your system is working properly. That's just preposterous!
Get the best service by us with quality assured!
KedaiAutogate offers the Best In Class Repair Services ForAutogates& Gates:
Autogate Repair (Battery Replacement, Remote Control Replacement)
Diagnostic Service
Gate Bearing Replacement
Bottom Wheels Replacement
Find premium quality of Autogates from us that are bound to fit your requirements. Take assurance of the quality along with the ease of installation with our company. KedaiAutogate is your number one choice for autogate repair and replacement.
Repairable & Serviceable Brands:
We carry many autogate spare parts, for example, transformer, control panel, remote control, battery, and etc. Some of the repairable and serviceable brands services offered by us include Beninca, DEA, OAE, DNOR, MEXIGATE, Geforce, etc.
With our comprehensive tests for ensuring safety and security of our products, we make sure that everything abides by our quality policy. Go through the many testimonials for our venture with autogate Malaysia review.
Contact us
If you are looking for the best autogate brand in Malaysia, feel free to contact us today! We can explain the features of our products and help you to choose the right one for you and your family. Remember, this small step can greatly help you lead a safe and secure life!